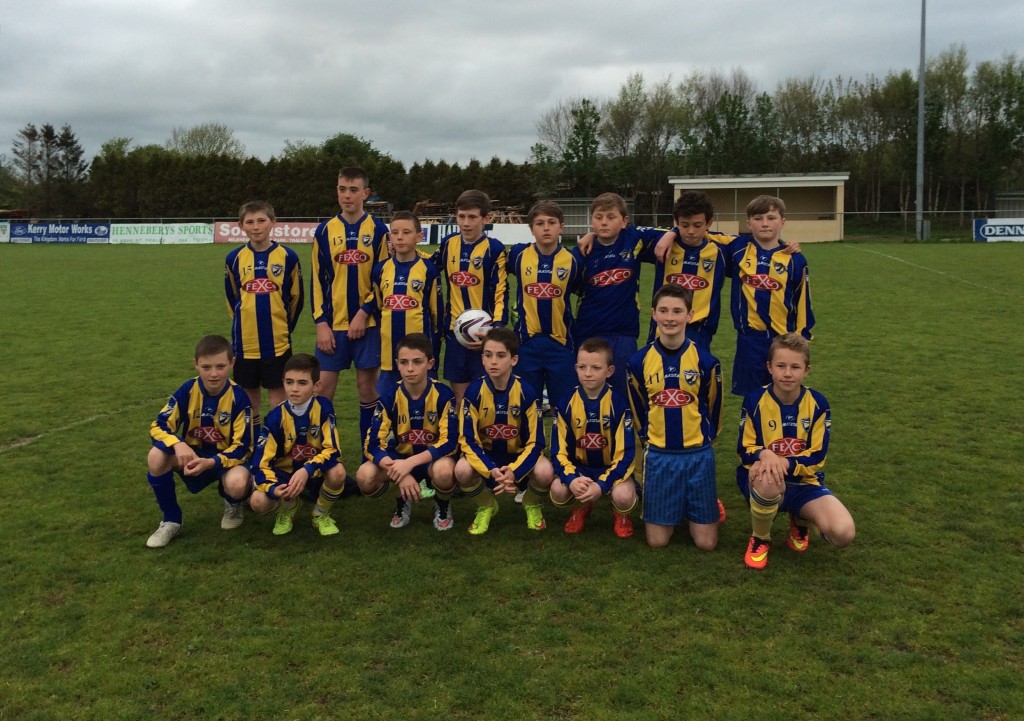 Killorglin AFC 0 – 4 St Brendans Park
It was heartbreak for Killorglin in the Kerry Cup final in Mounthawk Park on Friday night, as the premier league leaders proved just too strong on the day. Early pressure from Park was absorbed well with Darragh McKeefry marshalling Jason O'Sullivan, Dylan Francis and Kaiya O'Flaherty in defence. Cillian Burke was outstanding in Midfield, while Jack O'Leary and Aaron Broderick put in an amazing effort to keep Killorglin pushing forward, and playing good football whenever possible. But about 15 minutes in, Park scored the opening goal, and followed up with a second about 5 minutes later. Killorglin heads didn't go down, and despite having to be disciplined in tracking back, Stephen O'Loughlin and Ethan Coffey on the wings did exceptionally well in attack. With Gearoid Hassett up front, Killorglin always looked like they could get one back. Just before half time, Gearoid latched on to a through ball from Jack O'Leary and was unlucky not to slip one past the Park keeper. 2-0 at the break, but it was clear that everyone was committed to getting back into the game.
The second half started well for Killorglin, with Ethan and Stephen keeping Killorglin pushing forward, and Aaron in particular showing amazing energy. Martin in goal was dealing with any Park pressure, but the stand out player for Killorglin was Gearoid. On a difficult night, with little support up front, he always looked a threat, showed fantastic touch and skill, and was unlucky on several occasions not to get on the scoresheet. When Stephen was replaced by Dylan Moriarty mid-way through the second half, Gearoid dropped deeper and kept Killorglin competitive. But when Park scored a third with about 10 minutes to go, it was looking like cup glory was a step too far. Max Doyle replaced Dylan Francis at full back, and Callum Russell swapped with a shattered Kaiya, and both did well for the remainder of the game. With 5 minutes to go, Park got a fourth, but Killorglin finished the game with their heads held high. I was proud to manage the team tonight. Each and every player gave 100% and that is all I could have asked. Even after the game, the players picked up their medals, and watched Park lift the cup with respect and envy. This team will have better days ahead – but should look back on this final with no regrets.
Team: Martin Fay, Jason O'Sullivan, Dylan Francis, Darragh McKeefry, Kaiya O'Flaherty, Cillian Burke, Jack O'Leary, Aaron Broderick, Stephen O'Loughlin, Gearoid Hassett, Ethan Coffey. Subs: Dylan Moriarty, Max Doyle, Callum Russell, Dean Francis
Gabhan